Testimonials & Reviews
Delivering new types of content is always a challenging task but ultimately rewarding. The comments below were obtained through formal channels and have not been edited, although only a selection appears.
Fundamentals of Solid Earth Science
At Princeton University, we revamped GEO203-ENE203 for science and engineering majors (
Course Website Link
).
• "Amazing class, extremely interesting"
• "If you're interested in GEO, take this course. The problem sets were not something to brush off but were very engaging and extremely interesting."
• "Problem sets and field trips are very well designed"
• "The readings were great and the visuals were very interesting"
• "Moulik is great and I really liked him. He did go through a lot of content in the semester, and he is an expert on a lot of it, and it was really cool to be able to hear about the seismic stuff that he actually researches."
Probing the Earth's Dynamic Interior with Earthquake Waves
I conducted teachers as scholars (TAS) workshops on
Probing the Earth's Dynamic Interior with Earthquake Waves
at Princeton University for ~15 high-school teachers from underserved communities in New Jersey so that they can use our tools in classrooms to introduce the fascinating world of geosciences (
Website Link
).
What Teachers Had to Say
:
• "Professional, I feel "refreshed" and inspired from this Techers as Scholars seminar. Personally, it's nice to feel surrounded by other curious teachers and reminds me of why I got into science teaching"
• "Seeing the seismometer, all the information, playing with the data models"
• "I'm most taken by the analysis of seismic waves at the end of the workshop…It was great that the patterns weren't cleaned up and extracted for us"
• "Encouraged me to think about the ways in which I can incorporate real-world data and earth systems in secondary science"
• "I feel like I have a solid intro to the field and many ways I could integrate it into questions with my classes"
• "It showed me many areas in which topics that I thought of as dry are incredibly relevant to modern science"
Some Facilitator Shout-Outs
:
• "Raj is an exceptional thinker and explainer"
• "Pritwiraj is at his best when he is fielding questions and inspiring the teachers with answers that inspire curiosity and further questions"
• "Prof. Moulik was so passionate about the material and eager to answer questions and help us out"
• "The presenter was very approachable and made the difficult parts of the material accessible without being condescending"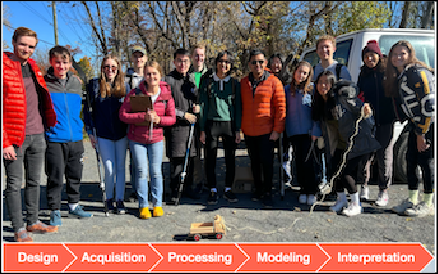 View All Courses
Previously: Teaching Fellow at Columbia University
Courses included
Earth's Environmental Systems: Solid Earth
(V2200) and
Environmental Risks and Disasters
(V1201).
• '… experience with past TAs has been lacking, but Raj restored my faith….'.
• '… greatest strength, at least for me (an admittedly weak science student), is his patience and investment in his students…. it is what will see him through to being a great professor.'
• 'I would love having him for a teacher one day'.
• '.... so smart and helpful and funny!'